Many of you have probably heard that Wall Street's big money traders have hired out a bunch of smart
math whiz kids to construct computer trading programs (or "algorithms")
to "try and nickel and dime" you every step of the way. I call these
programmed trading machines "RoBots" or "Bots" for short. Many market observers simply call them "the machines."
These "fast traders" have such "tools" at their disposal like "flash trading" and "high frequency trading" which allows some of the big money guys to see your bid/ask
prices before they act on them…and allows their fast computers to
adjust to your bid/ ask prices accordingly. These big guys get data
feeds live from all the main stock exchanges (as reported in the Wall
Street Journal) for which they pay dearly so that they can see your
trades (and mine) before they execute theirs. It's like being in a high-stakes poker game where the guy with the most chips is given the ability to see your cards!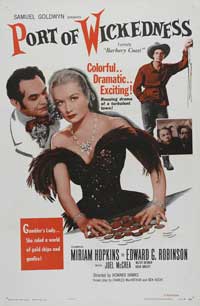 In the fictional old movie called "Barbary Coast", a gold miner is robbed of his fortune by a rigged roulette wheel operator in the town's local casino. The old movie is available as a rental on NetFlix and on Amazon as well as other video venues.
Whereas we as retail traders supposedly get the best available
price among all exchanges, the big boys can sometimes take advantage
of the short delay between the feeds they get from each exchange and the
best available price. Often, the victim of this practice is anyone who
uses market orders or places large block orders. If these big market
players were doing this in a high stakes poker game, they would be
thrown out of the casino after a good brass knuckle pop to the face!
Flash Trading reminds me of someone who is allowed to see your down-facing cards in a game of Texas Hold'em.
If a Vegas casino allowed one of the players to see the face-down cards
of all the other players, I'm sure you would walk away from that table!

Yet, here we are in the 21st century, and we have such a game going on right now down on Wall Street!
model dating brady bunch
Not only is the small retail trader getting skimmed on their discount
trading platforms, but their money which is stashed in big mutual funds
is also getting skimmed!
The big mutual funds, most of which are
slow, methodical investors of vast amounts of money are often the
victims of flash trading themselves. Well, who are the main investors in the traditional big mutual funds? Yep,
you're right…the small retail investor who socks away a portion of
his/her money each paycheck into a 401k account at work!
his explanation Is it any wonder that the big proprietary trading desks of the major brokerage houses make money hand over fist?
And should we not be surprised that the big hedge funds show similar
year in and year out performance so they can collect their hefty fees
from wealthy clients? They both have an ultimate victim…and that
victim is the average
"Joe trader"
or the small, local investment
adviser who puts his clients into managed mutual funds which can't seem
to beat the indexes much any more, because of the way the computer
programs skim money from the mutual funds.
For instance, another new game of the Bot trading programs is that
they try not to trade in large blocks…rather, they trade tens of
thousands of shares in small lots of, say 200 shares here and 400 shares
there…
http://www.cutebonsaitree.com/frnew1/1170 so as not to be detected by traditional traders who watch for volume signs
.
At the same time, these Bot programs play cat-and-mouse games with the
big mutual funds when they are attempting to buy or sell in large lots. What
this means for the small time mutual fund investor is that best price
execution is not always occurring….and for the traditional trader who
watches volume patterns, there are false signals and confusion.
So, should you take your money out of the stock market and hunker
down with some US treasuries, perhaps a handful of corporate and
municipal bonds, and otherwise stuff the money in CDs, savings accounts
and your mattress? A lot of people have already chosen to do this, as
you probably know. As some market observers have recently remarked, no "safe haven" including CDs and bonds are totally safe havens these days due to the structural problems of each.
why not check here Though I agree that the equities game is rigged, we as individual
investors/ traders have one distinct advantage over the big fund
managers: w
e are small enough that as individuals or small investment entities,
we can be very nimble
and trade smart, and confidently… and with original thinking!…
http://caboclonharaue.com/?kreosan=ioption-op%C3%A7%C3%B5es-binarias&21f=0a we have the ability to beat the machines that pose as "suppliers of liquidity to the markets."
Also, for all the genius that is pumped into the machines' trading algorithms, I have discovered that
rencontre femme indou the machines trading actions are very predictable over any period of several days or several weeks stretch of time. Why?
What I have learned is that many of the quants who devise these trading algorithms (programs)
this website are young men and women fresh out of college who are in their first career job.
site de rencontre pour personne riche Guess what? These quants are very interested in self-preservation!
They
are not trading with their own money (for the most part), but trading
with the boss's money–the last thing they want to do is speculate
wildly and away from the norms. In other words, if one ignores the
minute-by-minute volatility these quants generate to throw off other
traders–
http://devrimcicephe.org/vistawkoe/2660 then at their core, the quants' real goal is to try to stay close to typical industry benchmarks.
If the S&P 500 rises 10% in a year, then
the quants
only want to beat that number by just a little. They are not going to
risk their future paychecks by gambling to try and triple the S&P
returns–because such gambles might cause them to lose money if their
gamble fails–and that could cost them their job. Yes, contrary to what many people think, most quants are quiet geeks attempting to hold on to a normal 9-to-5 job and paycheck.
They know their masters will not fire them so long as they don't lose money…and therein lies the foundation of how they can be beaten by the astute trader or investor.